"The training was better than I could ever expect and beyond valuable. Comprehensive in the application of anatomy and philosophy teachings, as well as foundational for the instruction of students; Ted and Martha teach with the authority of experience and knowledge. Their awareness and compassion as teachers keep their students' best interest in the forefront, especially when life happens; providing flexibility and growth potential. The added benefit is the opportunity to teach classes at YogaLab and practice the skills provided in the training. I felt it was like an internship where I could experience the reality of teaching. I have completed the program not only with the skills to teach yoga, but also the life skills to lead a fuller, more conscientious life. I would recommend this program to anyone interested in broadening their yoga knowledge."
200 Hour Yoga Teacher Certification Program:
Embark on a transformative journey of self-discovery and personal growth with our ten-month immersive program. Designed for those aspiring to become certified teachers or deepen their practice, our comprehensive training offers a rich blend of theory and experiential learning.
Program Highlights:
Ten-Month Duration: Our program unfolds over ten months, with monthly weekend sessions that provide a flexible and immersive learning experience.
Diverse Curriculum: Covering a range of topics, our curriculum ensures a well-rounded understanding of the discipline, laying a strong foundation for informed teaching.
Hands-On Teaching Experience: Practice teaching sessions with real-time coaching allow you to hone your skills and gain confidence as you progress through the program.
Engaging Activities: Beyond classroom sessions, engage with reading materials, self-inquiry, weekly class attendance, and writing assignments to deepen your knowledge and practice
Expert Guidance: Benefit from the expertise of two highly experienced lead educators who bring a wealth of knowledge and insight to enhance your learning journey.
Ethical Standards: Our program upholds high integrity standards, providing a framework for ethical teaching practices that go beyond industry norms.
State Certification: We are proud to be licensed by and in compliance with the State of Oklahoma Board of Private and Vocational Schools, assuring you of the program's quality and legitimacy.
Proven Track Record: Since our establishment in 2014, we have certified over 100 teachers, showcasing our commitment to delivering a transformative and impactful learning experience.
Join our community of seekers and achievers who have embraced this journey. Discover the power of mindful teaching and personal evolution with a program that goes above and beyond traditional standards.
Enroll now and become a part of our legacy of empowered and certified teachers. Your transformative journey begins here!
Classes meet one weekend per month for 10 months. The weekend schedule is 6 – 9 pm Friday, 9– 6 pm Saturday and Sunday. Cost for the entire program is $2,800, not including the required books, and weekly classes. The payment plan is $280 per month. Students may join the program at any time as each weekend is a separate training module. Students enrolled in this program will receive a reduced rate of $7.00, 50% off our regular class fee.
2024 Training Schedule:

Feb. 23 – 25
Mar. 15 – 17
Apr. 12 – 14
May 10 – 12
Jun. 7 – 9
Jul. 12 – 14
Aug. 9 – 11
Sep. TBD
Oct. TBD
Nov. TBD
300 Hour Advanced Yoga Teacher Certification Program
Begin the next chapter of your yoga teaching journey with our 300-hour Yoga Teacher Training program. Elevate your practice and enhance your teaching skills, delving into the realms of functional yoga and conscious movement.
Program Highlights:
Deeper Understanding: Explore the intricacies of serving others through yoga, focusing on functional yoga and conscious movement. This program is tailored for those who want to take their teaching to a more profound level.
Enhanced Skills: Develop more effective critical thinking and assessment skills, specifically applied to anatomy, bio-mechanical movement, and Yoga Philosophy. Gain a comprehensive toolkit to elevate your teaching and enrich your students' experiences.
Comprehensive 14-Month Training: Immerse yourself in a transformative 14-month journey consisting of 10 monthly modules. This extended duration allows for a thorough exploration of each topic, ensuring a well-rounded and in-depth learning experience.
Quarterly Mentoring Class: Receive personalized attention and guidance through our quarterly mentoring class. This individualized approach ensures that each student's unique strengths are acknowledged, and areas for growth are addressed.
Co-Creation: We believe in co-creating the program with each student. Tailor your learning journey to address your individual strengths and focus on the aspects of teaching that you wish to deepen. This personalized approach sets our program apart.
Continue your evolution as a yoga teacher, blending ancient wisdom with modern understanding. Join a community of like-minded individuals on a shared journey of growth and transformation.
Enroll now to co-create a path that aligns with your aspirations and empowers you as a knowledgeable and skilled yoga teacher. Your transformative teaching experience awaits!
Cost is $3,450, exclusive of books, retreat module and required workshop.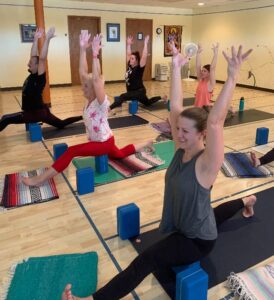 For more information on any of these programs, please contact martha@spirithouseyoga.com
Kids Yoga Teacher Certification Program

Spirit House Yoga is partnering with SHY YTT graduate Jennifer Demas, founder of Learn Yourself LLC, to offer a 60-hour training for yoga teachers to teach Kids Yoga! Using methodology that is developmentally appropriate and based in science, this training will focus on teaching children self-regulation and emotional intelligence skills in order to build strong and integrated brains.
This 60 hour training requires a total of 48 Contact Hours and 12 Non-Contact Hours, completion of all reading and writing assignments, and a final test and practicum project. Sessions will meet on 4 weekends throughout the year – May through August – on the following schedule: Saturdays, 12:30- 6:30, Sundays, 10am-4 pm. The weekends are consecutive modules and must be completed in order over a one-year period. Cost $950 not including books.
2024 Training Schedule:
TBD